Kids have worked hard on an awesome Olympics project, integrating world studies, history, symbolism, design, values, maths, English and of course Mandarin!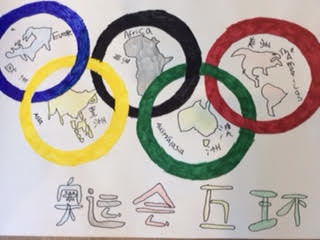 My kids often get a bit mixed up with continent names and the concept of a continent and a country, even though we chat often over a world map!  So I thought the Olympics was an ideal opportunity to consolidate this a little!  We are going to be doing a unit on 'Boundaries' soon, so it's also a good little intro to that!  We have been chatting about the 'symbols' used in the Olympics, and of course the Olympic Rings are the most well known,  representing the Continents!  So the kids drew their own Olympic Rings, and drew the outline of each continent within each ring, with the name of each continent inside.  Integrating Chinese into this activity added to the consolidation well, as the kids could clearly see that all the continents in Chinese ended in '洲' , clearly distinguishing a continent from a country! The Chinese they needed for this activity follows:
| | | | | | |
| --- | --- | --- | --- | --- | --- |
| Olympic Rings | 奥运会五环 | ào yùn huì wǔ huán | The Americas | 美洲 | měi zhōu |
| Australasia | 澳洲 | ào zhōu | Europe | 欧洲 | ōu zhōu |
| Asia | 亚洲 | yà zhōu | Africa | 非洲 | fēi zhōu |
We used making our own Olympic medals as another opportunity to focus on a couple of our learning values and attitudes!  We used some old 'fun run' medals, to turn into a Gold, Silver and Bronze medal.  On the one side they wrote 'Olympics, 2016, Rio De Janeiro' and on the other side they wrote whether it was Gold, Silver or Bronze.  They also had to look over our values and attitudes wall, and pick three that they thought would be needed to be an Olympian!  They chose 'Commitment', 'Integrity' and 'Balanced'.  I thought that they were pretty good values to choose, especially as they have seen in the news a lot about cheating in the Olympics, we watched this segment of BTN about what is happening with Russia and the Olympics at the moment. Integrity is a new word in English for them, but they have something to relate it to now! Commitment is another good one as we try to ensure we finish our projects before going onto another!  And of course we also try to be Balanced, making sure we look after our bodies and minds!  The Chinese they needed to find for their medal activity follows:
| | | | | | |
| --- | --- | --- | --- | --- | --- |
| Balanced | 身心均衡 | shēn xīn jūn héng | Gold Medal | 金牌 | jīn pái |
| Commitment | 投入 | tóu rù | Silver Medal | 银牌 | yín pái |
| Integrity | 廉政 | lián zhèng | Bronze Medal | 铜牌 | tóng pái |
| Rio De Janeiro | 里约热内卢 | lǐ yuē rè nèi lú | Olympics | 奥林匹克 | ào lín pǐ kè |
Keeping with symbols, we looked into the history of the sport pictograms, learning that new pictograms are designed for each Olympic games.   The kids then printed off the new Rio pictograms, to find out the name of the sport in English and Chinese.  Finding the names for the sports against the pictograms in English, and then finding the corresponding official Chinese term of the official Chinese Olympic Site was challenging but worth it, displaying 'commitment' to a difficult task! They came across a few sports they had never even thought twice about in English, as well as the Chinese vocab for these.  Doing this exercise allows us to really think about the composition of these words both in English and Chinese.  We can also make so many connections to general vocab in Chinese, when we learn that Hockey in Chinese literally means 'Bent Stick Ball', Trampolining is literally 'Bouncy Bed' and BMX is literally 'small wheel bike'!  The full list of sports are at the bottom of the post.
The kids found a site that has all the pictograms from Tokyo 1964 to Rio 2016, and the designer's creation context. We learned that Sydney's pictograms had boomerangs for figures' arms and legs! Beijing's looked like calligraphy stamp seals!  Rio's have used curves in the figures representing their coastline, each one in a pebble shaped boundary!  We discussed why they need these sport symbols, and figured so that every country's people, no matter what language they speak, can clearly see which sport is being reported on in the coverage. The kids then designed their own pictogram for a new Olympic sport that they thought they would qualify for! They had to come up with their own design, and use symbolism through the shapes and colours that they used.  They then wrote their own creation context.  Looks like the next Olympics will have 我的世界wǒ de shì jiè (Minecraft) and 滑板huá bǎn (Skate boarding) as 2 new sports!
We watched a little history of the Olympic games on BTN before finding out the last 8 host countries.  The kids found their flags, their names in Chinese, and made a little visual timeline to match each flag to the host city on our big map.
| | | | | | |
| --- | --- | --- | --- | --- | --- |
| Boxing | 拳击 | quán jī | Table tennis | 乒乓球 | pīng pāng qiú |
| Shooting | 射击 | shè jī | Archery | 射箭 | shè jiàn |
| rowing | 赛艇 | sài tǐng | Golf | 高尔夫 | gāo ěr fū |
| Triathlon | 铁人三项 | tiě rén sān xiàng | Athletics | 田径 | tián jìng |
| Rugby | 橄榄球 | gǎn lǎn qiú | Sailing | 帆船帆板 | fān chuán fān bǎn |
| Taekwondo | 跆拳道 | tái quán dào | Badminton | 羽毛球 | yǔ máo qiú |
| Weight lifting | 举重 | jǔ zhòng | Hockey | 曲棍球 | qū gùn qiú |
| Beach volleyball | 沙滩排球 | shā tān pái qiú | Track Cycling | 场地自行车 | chǎng dì zì xíng chē |
| Volleyball | 排球 | pái qiú | Judo | 柔道 | róu dào |
| Tennis | 网球 | wǎng qiú | Handball | 手球 | shǒu qiú |
| BMX | 小轮车 | xiǎo lún chē | Swimming | 游泳 | yóu yǒng |
| Basketball | 篮球 | lán qiú | Marathon swimming | 马拉松游泳 | mǎ lā sōng yóu yǒng |
| Pentathlon | 现代五项 | xiàn dài wǔ xiàng | Wrestling | 摔跤 | shuāi jiāo |
| Soccer | 足球 | zú qiú | Water polo | 水球 | shuǐ qiú |
| Canoe kayak slalom | 激流回旋 | jī liú huí xuán | Fencing | 击剑 | jī jiàn |
| Synchronised swimming | 花样游泳 | huā yàng yóu yǒng | Diving | 跳水 | tiào shuǐ |
| Canoeing | 皮划艇 | pí huá tǐng | Gymnastics | 体操 | tǐ cāo |
| Rhythmic gymnastics | 艺术体操 | yì shù tǐ cāo | Trampoline | 蹦床 | bèng chuáng |
| Equestrian | 马术 | mǎ shù | Mountain Bike | 山地自行车 | shān dì zì xíng chē |
| Road Cycling | 公路自行车 | gōng lù zì xíng chē |   |   |   |