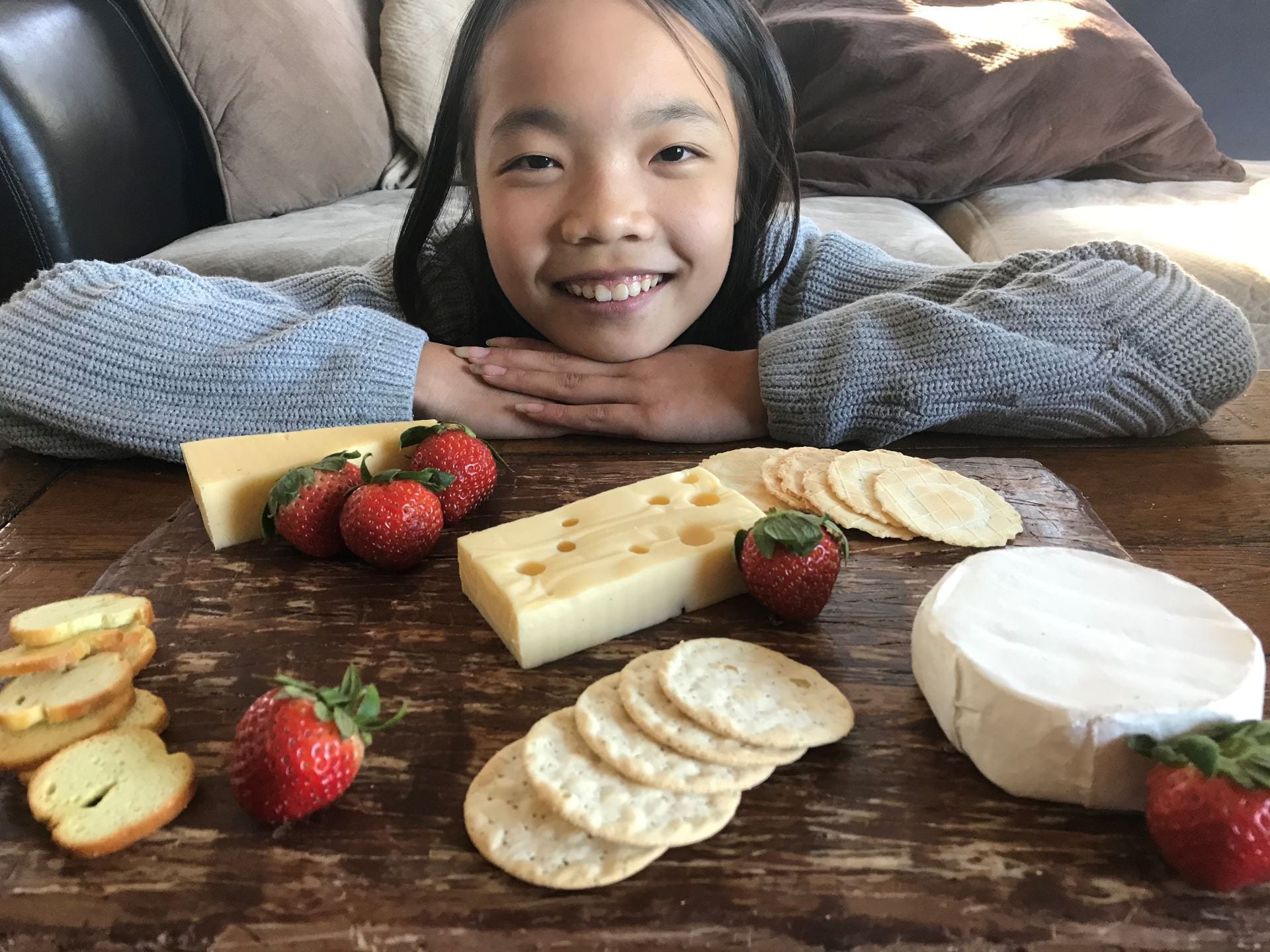 Kids made a Cheese Board with a twist for their birthday afternoon tea 🙂 Here is a video they made showing some of the steps in Mandarin 🙂
Transcript:
是木制芝士板吗?
看起来像木制芝士板。。。
淋  白   黑   牛奶巧克力在烤盘上,像木纹一样。
将软糖   杏仁糖   干果坚果    棉花糖  撒在巧克力上。
添加更多 巧克力!
四公斤巧克力
放在冰箱里让巧克力变硬。
摩擦直到光滑,像木板一样。
乳酪   饼干  草莓  放在巧克力'木制芝士板'上。
跟朋友一起吃!
shì mùzhì zhīshì bǎn ma ?
kànqǐlái xiàng mùzhì zhīshì bǎn 。 。 。
lín bái , hēi , niúnǎi qiǎokèlì zài kǎopán shàng , xiàng mùwén yī yàng 。
jiāng ruǎntáng , xìngréntáng , gānguǒ jiānguǒ , miánhuātáng sā zài qiǎokèlì shàng 
tiānjiā gēngduō  qiǎokèlì !
sì gōngjīn qiǎokèlì 
fàng zài bīngxiāng lǐ ràng qiǎokèlì biànyìng 。
mócā zhídào guānghuá , xiàng mùbǎn yī yàng 。
rǔlào   bǐnggān  cǎoméi , fáng zài qiǎokèlì ' mùzhì zhīshì bǎn ' shàng 。
gēn péngyou yīqǐ chī !
Is this a wooden cheeseboard?
It looks like one…
Drizzle white, dark and milk chocolate on the tray, like wood grain.
Scatter jelly beans, marzipan, fruit and nuts, and marshmallows on the chocolate.
Add more chocolate!
4 kgs of chocolate
Put in the fridge to set.
Grate and rub till smooth like wood.
Put  cheeses, crackers and strawberries on the chocolate 'wooden' cheeseboard。
Share with friends!
This is the video that the kids followed to make their Chocolate Cheeseboard if you want to try making your own!