Celebrate Roald Dahl Day on 13th September (his birthday 🙂 ) in Chinese with your kids or students.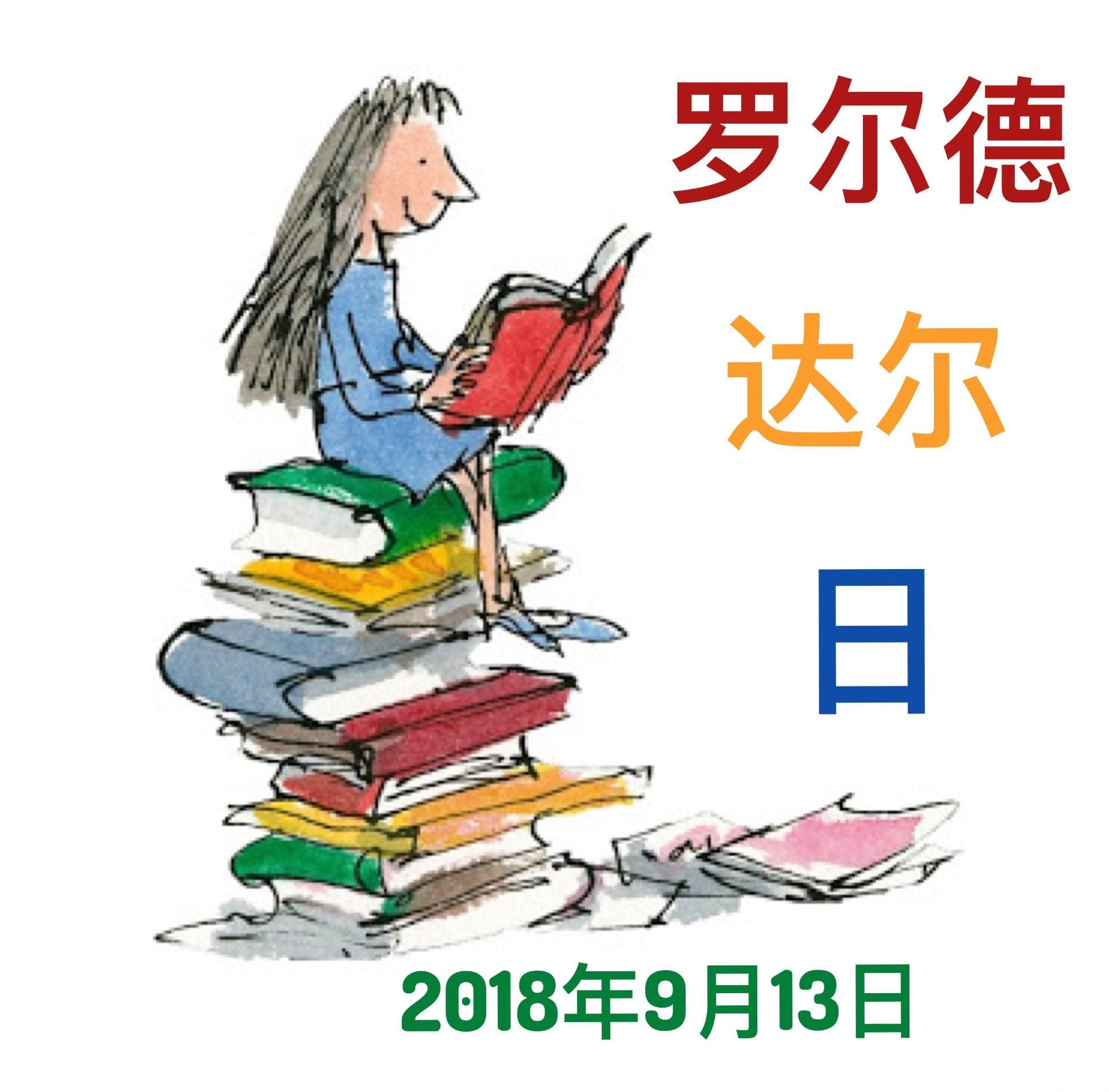 Roald Dahl's Chinese name is 罗尔德。达尔 ( Luóěrdé 。Dáěr). 
All of Roald Dahl's books have been translated into Chinese. Using translated versions of books that kids are familiar with and love, are great for kids to practice their second language reading. Older students (including senior students and adults) will enjoy the nostalgia and challenge of trying to read their fave Roald Dahl book in Chinese!!!!! We've picked up a few of Roald Dahl's books on our trips to China, but you can order them online for delivery to Oz… pick your favourite one and get it in time for Roald Dahl Day!
If a full chapter book like this in Chinese is too difficult for your students, use Roald Dahl Day to springboard memorable ways to visualise some Chinese vocab.  For example, you could do a  mind map of all the different products a chocolate factory could produce…at the centre of your mind map would be 威利旺卡先生的巧克力工厂 (Wēilì Wàngkǎ Xiānsheng de Qiǎokèlì Gōngchǎng)'Willy Wonka's Chocolate Factory'.  You can take examples from the book to start your mind map, then the kids brainstorm all the different products and flavours they would like…with flavours like roast beef and gravy bubblegum, blueberry pie lollipops, and whatever kids' imaginations think of, there are some great opportunities for food vocab to come alive!
Or, if you are following a strict curriculum with just no room to budge for your students, then you could just pick a few paragraphs, or key sentences from a Roald Dahl book that are really exciting, but also have grammar points that you are working on at the moment…so you can have some fun with Roald Dahl but still tick the boxes you need to as a teacher 🙂
Such books are also really good to spark conversation about translation…are there some things that have been translated literally that have ambiguous meanings in the first language, but just don't work in the second language? (Roald Dahl plays with language so much!!!). The books were written for western children, immersed in western 'culture'…are there things in the books that Chinese children (growing up in China) would find difficult to 'get' the point of?  These questions can really help kids with literary analysis in their first language too 🙂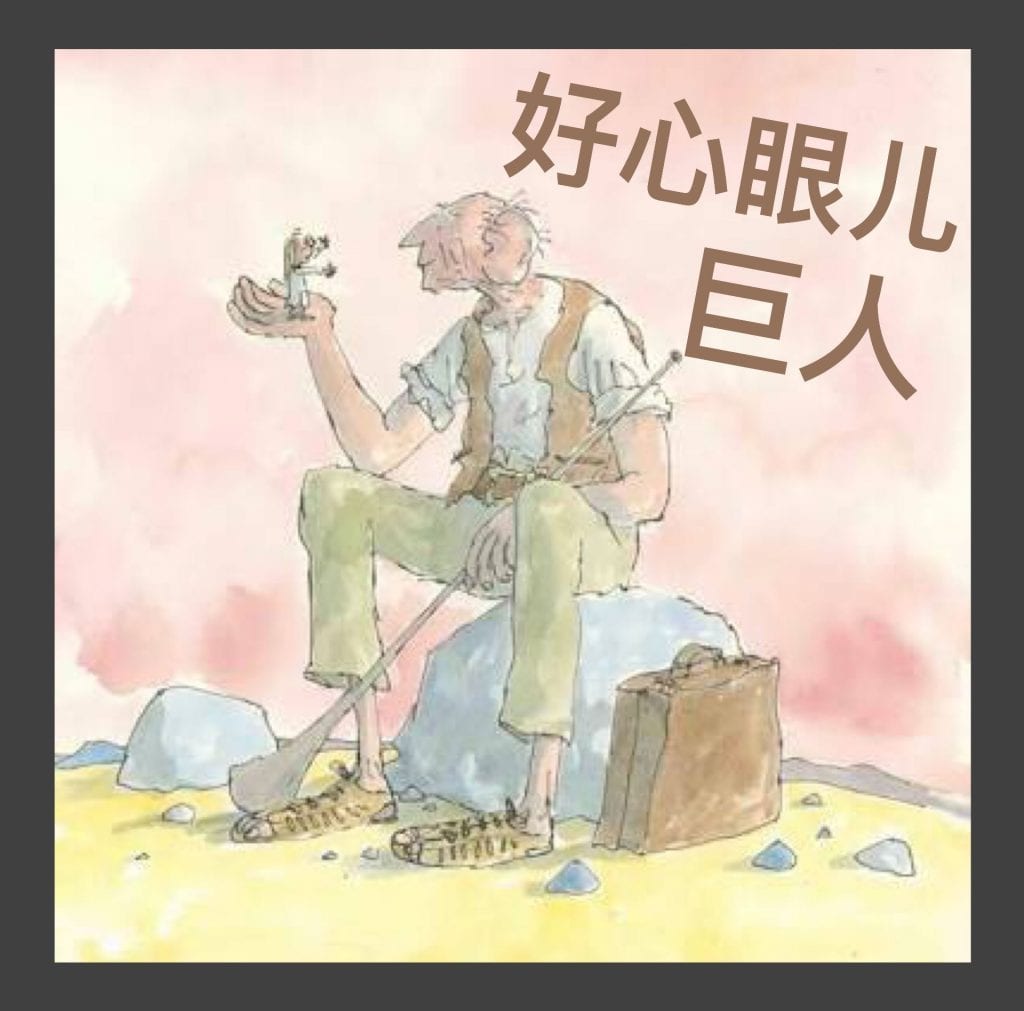 Below I have typed out chapter 5 of the 'BFG', to give an idea of the level of language typically required for a Roald Dahl book in Chinese.  In this chapter, Sophie is having her first conversation with the giant, which is all about what the giants think children from different countries in the world taste like.  Giants like to eat kids from Turkey because they taste like turkey, they don't like to eat kids from Greece because they taste greasy, kids from Denmark (Danes) taste like Great Danes, kids from Wellington in New Zealand taste like Wellington boots, kids from Jersey taste like jumpers, and kids from Panama taste like Panama hats.  The Giant is not very good at English grammar, which also allows for Dahl to play on words some more, he call human beings 'Human Beans'.
This chapter is really interesting for kids to read, and full of grammar points just waiting to be highlighted 🙂 BUT, what is really interesting for kids, parents and teachers to discuss, is how the translator has managed to keep the same play on words using Chinese like Dahl intended using English. It contains Chinese idioms that the translator has carefully picked to maintain Dahl's humour the best way possible in Chinese, eg. when Sophie tries to correct the giant's grammar he says not to '咬文嚼字' (yǎo wén jiáo zì) literally to bite words and chew characters (meaning don't be punctilious about the finer details of wording!).  This is within a conversation about Bone Crunching Giants biting and chewing kids' bones, so a cool idiom to use 🙂
How does a translator translate 'Greek kids taste greasy' in Chinese?? It just wouldn't have the same effect if translated literally.  So the translator has used a Chinese idiom to describe children from Greece (Greece= 希腊Xīlà) have a taste described as 味同嚼蜡(wèi tóng jiáo là) which means to taste as if one is chewing wax.  The character 腊(là) in the country name of Greece is not only pronounced the same as the character 蜡(là) which means 'wax', but also shares some of the same character components.  This way the translator has been able to keep the same play on words that Dahl intended using English.
Where the translator has not been able to change this play on words in Chinese, they have kept the same literal translation, but added a foot note to explain the intended meaning, for example a foot note explaining what a Wellington Boot is in England, how they were named after the soldier 'Wellington' and how the capital of New Zealand 'Wellington' shares the same name etc.  The foot note explaining that the Panama hat is a straw hat from Panama is a good one to discuss, because it can lead to a discussion as to whether the Panama hat actually does come from Panama…so translating the text from Chinese can actually lead to students delving deeper into analysis of the text in English 🙂
Read the full chapter to find out how the translator has translated the other kiddie tasting comparisons 🙂  Hope you and your students can have fun with Roald Dahl in Chinese in some capacity on Roald Dahl Day this year 🙂
好心眼儿巨人   Chapter 5 
巨人用一只手把发抖的索菲抓起来,把她放在山洞的那张桌子上。
现在他当真要吃我了,索菲想。
巨人坐下来,狠狠地盯住索菲看。 他的耳朵真大。每一只耳朵有车轮那么大,他好像可以随意把它们转来转去。
'我饿了!'巨人轰隆地说。他咧开嘴笑起来,露出四方形的大牙齿。这些牙齿非常白,四四方方,在他的嘴巴里像一大片一大片白面包。
'请…请不要吃我。' 索菲结结巴巴地说。
巨人哈哈大笑。'只因为我是一个巨人,你就以为我是一个吃人生番!'他叫道,'你说得也对!巨人全是生番,要杀人豆子!他们当真吃人豆子! 我们如今是在巨人国!四面八方都是巨人! 在外面我们就有个赫赫有名的嘎吱嘎吱嚼骨头巨人!嘎吱嘎吱嚼骨头巨人每天晚上要嚼上两个肥肥胖胖不值钱的人豆子做晚饭!他吃饭的声音会把你耳朵震聋!他嘎吱嘎吱嚼骨头的声音会传得非常远!'
'哎呀!'索菲喊道。
'嘎吱嘎吱嚼骨头巨人只吃土耳其人豆子。'巨人说,'每天晚上嘎吱嘎吱嚼骨头巨人会跑到土耳其去吃土耳其人豆子。'
索菲的爱国心一下子被这句话激发起来,于是变得非常生气。'为什么只吃土耳其人?'她脱口而出,不服气地问道,'英国人有什么不好?'
'嘎吱嘎吱嚼骨头巨人说土耳其人豆子吃上去汁水更多,味道更好。嘎吱嘎吱嚼骨头巨人说土耳其人豆子有一种迷人的香味。他说土耳其人豆子有点吐绶鸡的味道。'
'土耳其,吐绶鸡,听起来有点像,我想他们可能是这样。'索菲说。
'他们当然是这样!'巨人叫道,'每一种人豆子味道都不同。有一些好吃,有一些难吃。希腊人豆子全都不好吃。巨人从来不吃希腊人豆子。'
'为什么不吃?'索菲问道。
'希腊人豆子味同嚼蜡。'巨人说。
'希腊的'腊'根蜡烛的'蜡'声音一样,我猜想这也是可能的。'索菲说。他有点发抖地在想:这样只管谈吃人,不知会导致什么结果。可是不管怎样,她必须逗这个古怪巨人说下去,于是对他的笑话露出微笑。
可这些是笑话吗? 也许这凶恶的巨人谈吃只是要引起他的食欲。
'正像我说的,'巨人说下去,'不同的人豆子有不同的香味。巴拿马人豆子有很浓的草帽(1)味道。'
'为什么是草帽味道?'索菲说。
'你不很聪明。'巨人把他的大耳朵转过来转过去地说,'我本以为所有人豆子都很有脑筋,可你的脑袋瓜比一个草包还要没脑筋。'
'你喜欢吃蔬菜吗?'索菲问道,希望把话题转到稍微不那么危险的食物上去。
'你想改变话题,'巨人狠狠地说了出来,'我们谈人豆子的味道正谈得津津有味。人豆子可不是蔬菜。'
'噢,可豆子是蔬菜。'索菲说。
'人豆子可不是,'巨人说,'人豆子有两条腿,可蔬菜根本没有退。'
索菲不再争下去。她最后一件要做的事就是让巨人发脾气。
'人豆子吗。'巨人说下去,'有千千万万种不同的味道。比方说吧,维京人豆子有鱼味道。这种'京'生长在海洋里有很大关系。''你是说鲸啊?'索菲说,'这'京'不是那'鲸',完全是两码事。'
'反正就是那么个音,'巨人说,'你别咬文嚼字。我现在给你举另一个例子。泽西人豆子给舌头一种最倒胃口的毛茸茸的感觉。'巨人接着说:'泽西人豆子有毛线衣的味道。'
'你是说泽西出产毛织品。'索菲说。
'你又来咬文嚼字了!'巨人叫起来,'别这样!这是一个严肃的话题。我说不去好吗?'
'请吧。'索菲说。
'丹麦人豆子有很 强烈的面粉味道。'巨人说下去。'当然,'索菲接上他的话,'面粉是麦子磨出来的。你说话是不是有点混?'索菲说。'我是一个非常混的巨人,'巨人说,'不过我已经尽力不这样。我一点儿没有其他巨人混。  我认为这么个巨人,他一直跑到惠灵顿去吃他的晚饭。'
'惠灵顿?'索菲说,'惠灵顿在哪里?'
'你的脑袋瓜满是死苍蝇。'巨人说,'惠灵顿在新西兰啊!惠灵顿人豆子有一种特别的美味,那个专吃惠灵顿人豆子的巨人是这么说的。'
'那么惠灵顿人的味道是怎么的呢?'索菲问道。
'靴子味'巨人说。
'当然,'索菲说,'我早该想出来(2)。'
索菲拿定主意,这个话题谈得已经长了。如果她非被吃掉不可,她宁愿干脆给吃掉算了,别再这么拖拖拉拉,磨磨蹭蹭地受罪。'那么你吃哪一种人呢?'索菲问。
'我?'巨人嚷嚷起来,他那洪大的嗓音震得架子上所有的玻璃瓶乒乒乓乓响起来,'我吃人豆子?我从来不吃人豆子!其他巨人,没错,他们吃!所有其他的巨人每天晚上都吃人豆子,可我不吃!我是一个独一无二的好巨人!我是一个好心眼儿巨人!我就叫好心眼儿巨人。你叫什么?'
'我叫索菲。'索菲说。她简直不敢相信刚刚听到的这个好消息。
(1)巴拿马草帽是巴拿马的特产
(2)英国有长统靴  惠灵顿高帮靴,其实它们的名称源自英国陆军元帅惠灵顿1769-1852,跟新西兰的首都惠灵顿根本不搭界。