While the big kids have fun with Chinese names, little kids will enjoy Henre Tullet's '10 times 10′, and look at some strange faces whilst doing some maths!  Tullet's books are an awesome fun read in any language!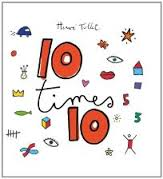 And learn a song with another strange situation, the very popular Chinese song 两只老虎 (liǎng zhǐ lǎo hǔ) 'Two Tigers'.  Both the book and the song reinforce measure words, the change of 二 èr to 两 liǎng when counting things, body parts, and the song also reinforces the concept of 没有 méi yǒu(none, or doesn't have any!) and the complement of degree structure 得 (de).  But you don't need to worry about these grammar rules, just listen and sing and they will come naturally!!!
Lyrics are:
两只老虎,两只老虎
跑得快,跑得快
一只没有耳朵
一只没有 尾巴
真奇怪,真奇怪
liǎng zhī lǎo hǔ, liǎng zhī lǎo hǔ
pǎo dé kuài, pǎo dé kuài
yī zhī méi yǒu ěr duǒ
yī zhī méi yǒu wěi bā
zhēn qí guài, zhēn qí guài
Two Tigers, Two Tigers
Running very fast, Running very fast
One has no ears, One has no tail,
How strange! How strange!