We will read this book this week…拉㞎㞎 (lā bǎ ba), or 'Doing a Poo'!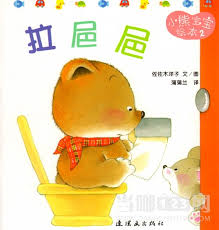 We will weave what we have been learning up to now with some new stuff! So keep practicing the songs from the last two sessions!
For older kids this week we will be working out how to ask 'Where is the toilet?' 厕所在哪里?cè suǒ zài nǎ lǐ?or 洗手间在哪里?xǐ shǒu jiān zài nǎ lǐ? by substituting words from the song 'Where is the teacher?' with our new words from our book!
We will also be introducing the tones of Mandarin through some funny parts of our story, for more info on tones you can see an old blog post on tones and poo!
They will also get to learn how to ask and answer questions about colour…as our main character in the story has to try many toilets with different coloured doors! 这是什么颜色? zhè shì shén me yán sè? What colour is this? A strategy to remember the colour names to answer the questions will be going through our colour songs.
Older kids will also be introduced to a technique of remembering our words called 'kinesthetic music review' which involves saying the words with a hand gesture to the beat of an instrumental song!
Little kids will enjoy the songs they are getting to know, enjoy our 'Doing a Poo' book, and keeping with the theme, get to dance and sing to this cool 'Wiping Bottom' song! Older kids can have a laugh at this song too! For the full transcript and lyrics of this video, you can visit an old blog post on 'Wiping Bottoms'.