We have set a challenge for our adventure in Nepal…
ZERO BOTTLED WATER CHALLENGE
The kids and I, through researching the problems that rubbish is causing in the Himalayas, alongside our necessity to be able to drink safe water, have had to rethink our habits.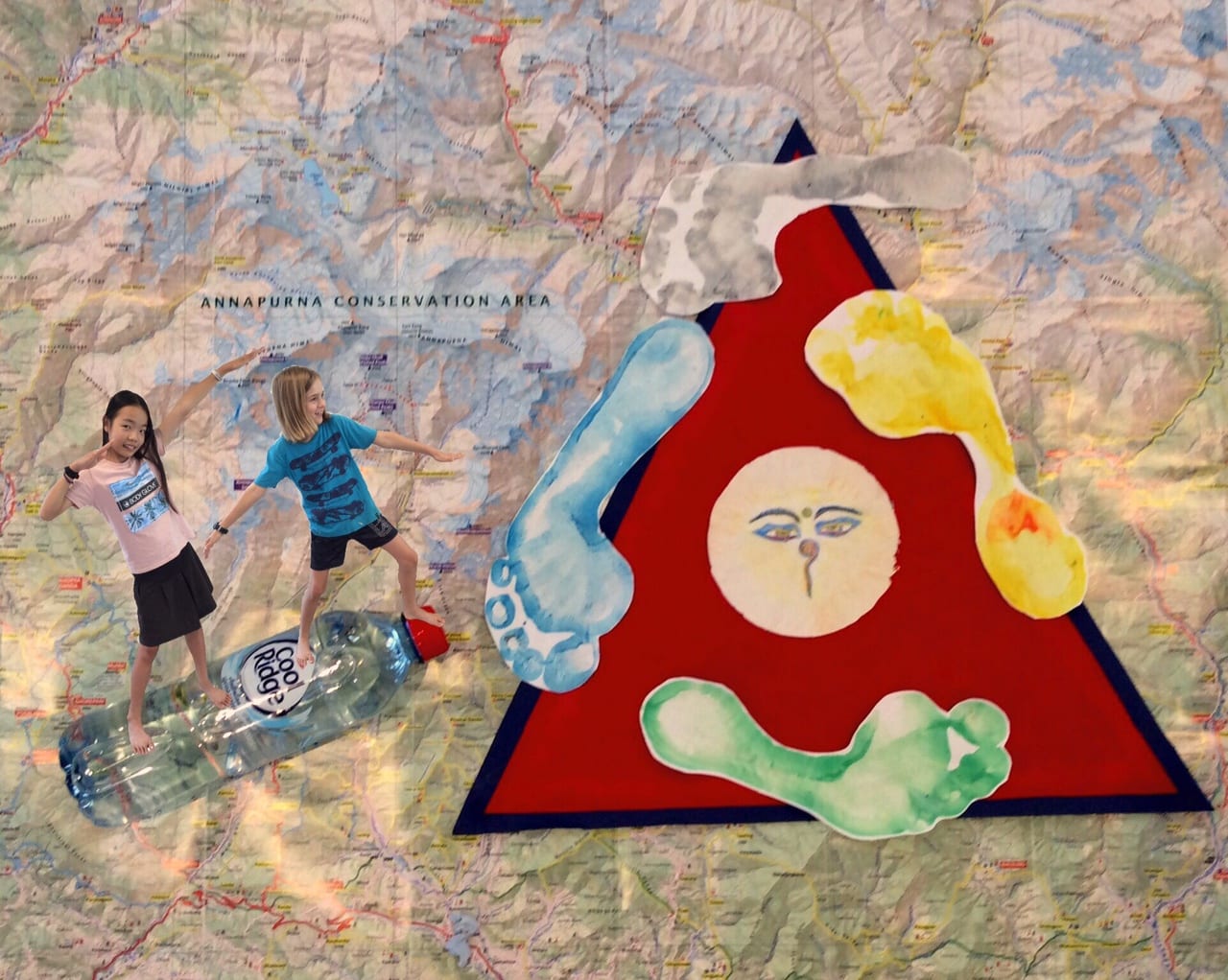 When we first booked our flights for our adventure, we immediately got to work on a digital and wall family/team emblem to encompass everything this adventure means to us.
Our 'footprints' around the mountain represented each one of us, training together and supporting each other as a team, then walking amongst the majestic mountains! But they also represented our intentions to leave only 'footprints'.
The kids made the above picture to depict how tricky it has been balancing this triad: the rubbish problem, safe drinking water, and our commitment of 'leaving only footprints'.   
The 'mountains' of rubbish that have been left behind by hikers and climbers in the Himalayas is quite shameful.  Even the removal to mountain dumps to burn is causing all kinds of toxic pollution.
As we have researched the rubbish problem in the Himalayas and learned of the subsequent problems, we have also come across lots of local and international individuals, groups and organisations who are creating amazing awareness, programs and initiatives to help. 
Like this one:
And this one, solving plastic bottle and poop problem in one! (Video is long but non-Nepali speakers can just fast forward through to see the stages and end product :-))
But what can WE do as a family?
We never leave any trace behind when we hike in Australia's National Parks, so why would we in Nepal? We wouldn't.  But there is a problem we have contributed to in the past….
On our last overseas hike in China's Tiger Leaping Gorge, we bought bottled water from the guest houses along the way.  We had to, as bottled water isn't a choice in China like in Australia, it's a necessity.  Although we didn't litter the empty bottles along the trails, we did leave them in the guest house 'bins'.  But where did they go after that?
We watched this TED ED video as a reminder that there is no throwing 'away' of a plastic bottle…
The third bottle in the video helps save the planet a little by being recycled…but often in mountain areas there are no official 'recycle' programs. 
The water being unsafe to drink in countries like China and Nepal has left hikers with no other option but to buy bottled water…which means several plastic bottles per day per hiker…with 100s of thousands of hikers …it's not hard to do the math!  The 'Reduce, Reuse, Recycle' slogan isn't helping in a place like the Himalayas…
…So we decided to add another 'R'…
REFUSE.
The challenge for us on our adventure in Nepal is
ZERO BOTTLED WATER.
So how do we do this when the water is not safe to drink?
A bonus is that as we already have experience hiking in the wilderness, so we already know a little about the different ways, and their pros and cons of treating water.  Kids and I have also been reading about what other trekkers in Nepal are doing.  
There are a variety of ways to treat water, such as boiling, iodine tablets, pump filters, straw filter bottles, UV light etc., each one has its pros and cons.  Here is what we plan to do on our hike in the Himalayas:
We are fortunate in that we invested in a SteriPEN a few years ago when we started taking the kids on extended hikes.  
Here's Aurora using our SteriPEN to treat creek water on our Hinchinbrook Island hike.
The UV light of the SteriPEN kills bacteria, parasites and viruses, and doesn't change the taste like iodine tablets do. The downsides are that the pen requires batteries, spare batteries can be heavy while hiking on long hikes (obviously still having to carry out used ones). The pen kills stuff, but doesn't filter…so the floaty bits and sediments will still be in the water.  It could fail/break, in that case you need a back up!
SteriPENs work best when treating 1 litre of water at a time. So we have a sturdy 1 litre bottle that we fill up with creek or tap water to treat, pop our Steripen in for 90 seconds, and voila…treated water.  We usually then fill our backpack bladders with this, repeating each time till full.  But in Nepal we plan to have a water bottle each that has an inbuilt filter.  We can then pour our treated water into our individual water bottles, this way our filters will then separate those sediments of the already treated water that the SteriPEN cannot do. We will also take Iodine tablets as a backup for if the SteriPen breaks.
The time to repeat the treating process every few hours on a hike, and the extra weight to carry the Pen, spare batteries, and iodine tablets, adds a little inconvenience to a trek.  But we feel worth it to do our little bit to reduce the plastic pollution in this area of the world.  Many other hikers are doing this too…if every hiker did this imagine the reduction in rubbish on the mountains….
Do you think we can do the ZERO BOTTLED WATER CHALLENGE?????
Links to Curriculum Outcomes:
These are just a few HASS Outcomes – but we explored Science (plastic composition and water bacteria/viruses etc), Math – Data Management of Waste, and Health outcomes too 🙂 Remember we don't really work to the curriculum, just a few here to show other families how Adventure Based Learning ticks off those outcomes 🙂
HASS YR 7 ACSSU116
considering the water cycle in terms of changes of state of water
investigating factors that influence the water cycle in nature
exploring how human management of water impacts the water cycle
HASS YR 7 ACSHE120
considering how human activity in the community can have positive and negative effects on the sustainability of eco systems
considering the issues relating to the use and management of water within a community