This week the kids' Uncle Stan dared a parachute jump over a lovely Aussie beach before he returned to England! It was awesome to watch him land, and we used the opportunity to integrate some math, science and Mandarin! Here's a little story in Mandarin first:
跳伞员的降落伞打开了!
Tiàosǎnyuán de jiàngluòsǎn dǎkāi le!
The Parachute jumper's parachute opened! (Literally: 'The jumping umbrella person's dropping umbrella opened!)
安全软着陆!
ān quán ruǎn zhuó lù!
A safe soft landing!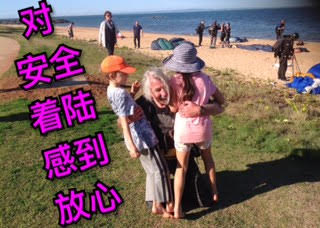 对安全着陆感到放心!
duì ānquán zhuólù gǎndào fàngxīn!
Relieved after a safe landing! (literally: towards a safe landing feeling relieved!)
Before we left to watch him land, we watched this video to try and understand what actually happens when you jump out of a plane! We learned about speed acceleration within the forces of gravity and air resistance (and their balancing point), firstly during freefall, then after the parachute has opened.  A constant dropping speed of 55 metres per second is reached during freefall!  Glad Uncle Stan safely hit the ground at a constant dropping speed of 5 metres per second after his parachute opened! To express 'per' in Chinese we can say: 每秒五米 měi miǎo wǔ mǐ (literally: each second 5 metres).