This post is for both primary and middle school students!
Our primary school students have reflected on the story 'A New Year's Reunion' by Yu Li Qiong this week.  They have not only empathized with Mao Mao, who only sees her father once a year, but with the feelings of Mao Mao's parents who like millions of other men and women in rural China choose to work in the big cities, away from their families, to financially support their families.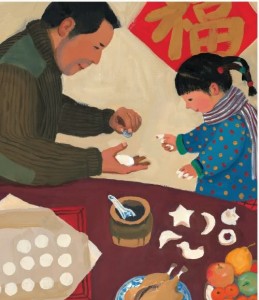 Students have discussed their own family situations, having family members who live far away, or mums and dads who work away from home sometimes for days, weeks or months, to compare with Mao Mao's family In China.
Middle School students will also be reflecting on this, as a 'social phenomenon'. Millions of rural men and women in China travel miles to the big cities to work and are known as 'migrant workers'.  They go home once a year, at Chinese New Year, to be with their familes for a few days, and then back to the cities to work.
This social phenomenon is known as the biggest human migration in the world! Here are a few videos to watch, but do a search in youtube to find some more perspectives on this phenomenon that not only stretches a nation's transport capacities, but highlights a nation of people's tolerance, resilience and commitment…amidst love and heartache.  In this world of globalization, how important is staying connected with our 'families'?
We will revisit our MYP question 'How does connecting with others open up our world?' , and compare the situations of families in China with our families in Australia.