This blog post follows in from Tiger Leaping Gorge Hike: Day 2
The next morning we set off again to our next village, 'Walnut Garden' (核桃园 Hé tao yuán). Up high in the gorge now the views were spectacular, and passing goat herders with their herds of goats reminding us this trail is a practical way of life, not just for us to be awe inspired by.
To get an idea of the 'hairy' parts of the trail, here are a few piks. We did have last minute parental fears that we were taking our kids on a hike that was a little too adventurous! But now we can say that we survivied, and if we had let fear take over we would never have the tale to tell 🙂 Yes it could be said that tripping over on the thinnest and sheerest part of the track in the wrong direction could have resulted in tragedy. But we know our kids are mature, sensible, agile and fit. Now we have finished our hike, I would do it again with my kids with no reservations, and they would too. Personally I feel that the benefits of such a hike for families far outweigh the risk of danger. If you are a fit family used to walking in the wilderness you would have no problems doing this hike and will have an awesome adventure to talk about together forever 🙂
If you look closely at this distant waterfall shot you can see the track, you can even see some hikers walking along…this is an example of a 'sheer' drop over the edge of the track
We finally get to Walnut Garden, and we stay at Sean's Guesthouse, a guesthouse we stayed at 20 years ago! It was the very first guesthouse in the gorge. Sean runs the guesthouse with his wife Lily and his children, who can all speak really good English, and the food, both Chinese and Western choices, was just heavenly , again paired with an awesome view.
We stayed 2 nights at Sean's, so that we had a full day to explore the village and walk down to the Jinsha River.  I highly recommend taking this time…especially as it meant trying more of the yummy food on the menu…and even a bottle of the 'Great Wall Red'…it doesn't taste too bad with the view 🙂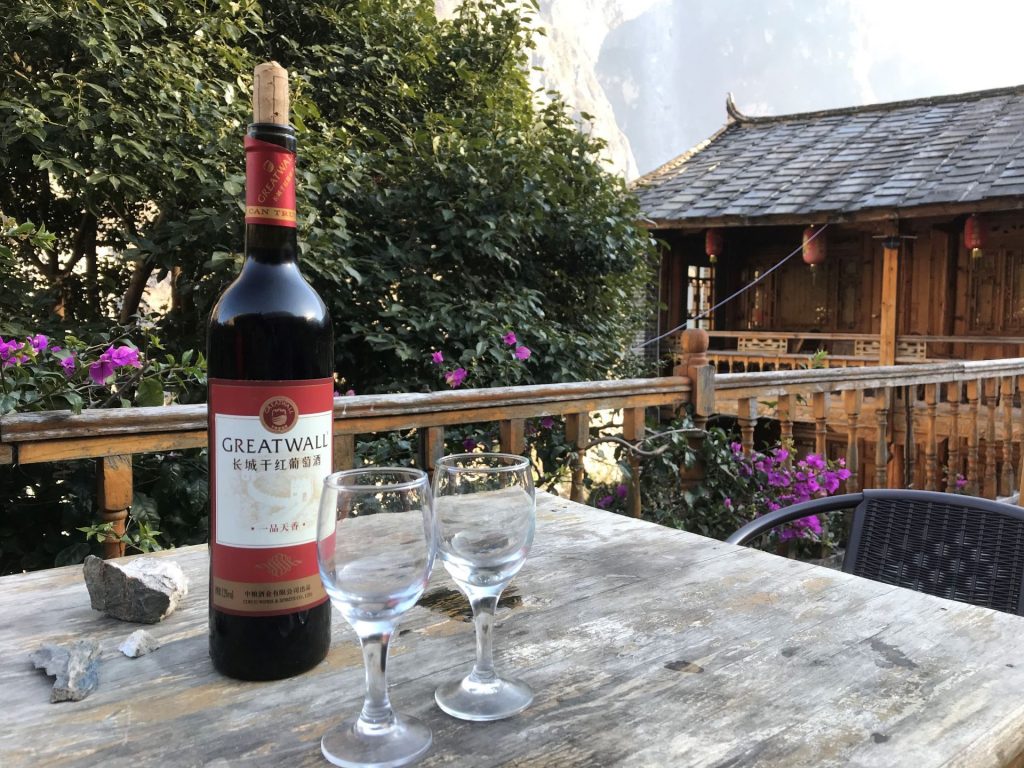 On our last day, Sean organised a driver for us to take us straight to Lijiang. There is a road that leads straight out of the gorge.  The driver was happy to stop at Jane's Guesthouse to pick up the kids' backpacks on the way.  There is also a bus at 3.30, but it wasn't much dearer for the 4 of us in a private car, and this way we could leave on our own schedule.
We were enjoying the hike so much, we wanted to pop our packs on and carry on through the gorge (you can do to get to the Shangri-La end), but we had an overnight train booked in Lijiang.  Maybe next time 🙂
Here are some tips we can think of if you go:
Yunnan weather is hot and dry, even in winter during the day, so take sun screen, and lip cream. We saw other western hikers with red faces 🙂
Gorge weather is unpredictable, is always cold Winter mornings and evenings, and can be cold in Summer too.  We wore the same hiking clothes each day, and took one spare set of clothes to be comfy in for the evening….including thermals, polartec jackets AND big down coats.  They take up a lot of room in packs…but it's nice to be able to sit outside in the evening 🙂
Take instant coffee or coffee/tea bags if you like a cuppa before setting off, there are kettles in the guesthouses.
Don't underestimate the walking times…they are not exaggerated like some western NP walks are. Allow the recommended time plus a few extra hours to get to your planned village before dark, especially if with kids.  Take a headlamp though just in case 🙂
If with kids, allow at least 3 nights to do this section of the hike.  Not because they are slow….my kids were at the top of climbs way ahead of me! But if you are not rushed you will enjoy your family time together and be safe 🙂

Follow in our family's Mandarin learning journey on our Facebook page Mandarin Motion