This blog post was written from both my 'Mandarin teacher's head' and my 'heart', to share the power of 'contagious creativity' for our children's deeper learning and sense of being, and how helping others achieve their creative goals itself creates 'contagious creativity'!
I would love to be able to share with you full details of alternative artist Sophie Koh's new album 'Book of Songs', a blend of Chinese poetry and Western classical music, and how it will help our children's understanding of Mandarin and Chinese culture, but it is not out till March 2017!  But you can help Sophie, who is a fully independent self-funded artist, to get this 4th album released, by pledging a pre-order (only $15). You can find out the whole story behind Sophie's new album, and pledge your support on her Pozible Page. (The page has some other cool rewards for pledging your support!). Or watch this video:
For those who may not have heard Sophie's music, here is a little more about her, and how this album can not only help our kids with their Mandarin…but maybe their personal life goals too!
My hubby and I first saw Sophie Koh at the Darwin Festival must be 11 yrs or so ago now! We fell in love with her music and have loved following her musical journey since.  With my passionate interest in Chinese culture, and my daughter's lifelong journey in resolving her Chinese and Australian Identity, we are drawn to journeys such as Sophie Koh's. We have felt Sophie's identity journey in her music, and were so excited to hear that Sophie was making an album in which she is openly sharing this resolve, (resolve as in taking seemingly inseparable parts and turning them into different forms when seen more clearly) of her Chinese Ethnicity, Pop and Classical Music! (Taken from her own Venn diagram 🙂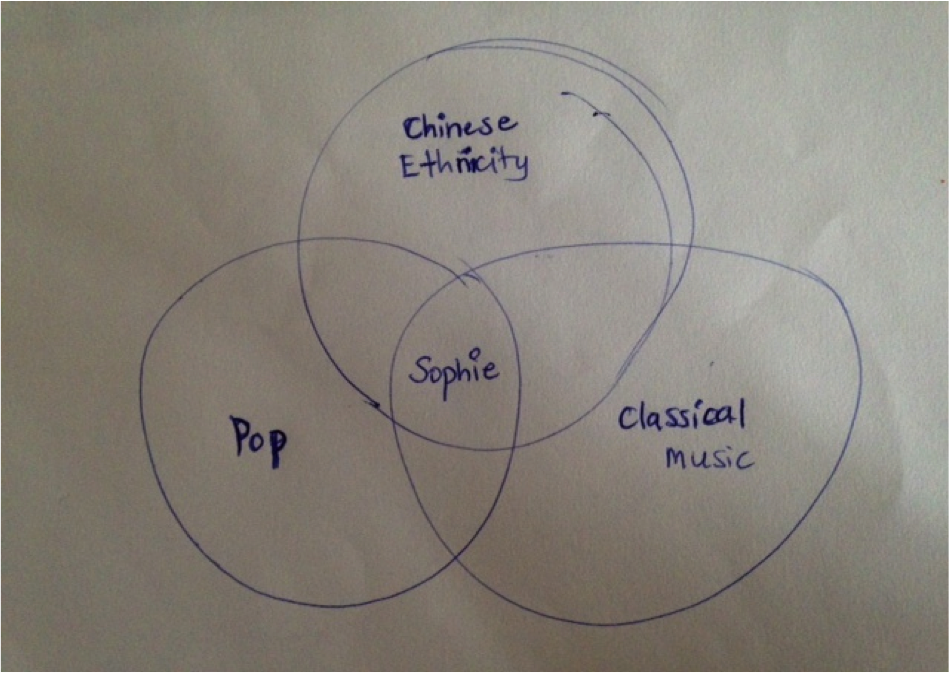 What Sophie is doing with this new album makes me feel invigorated in my own quest for resolve, and genuinely warms my heart that my kids have such an awesome role model.  Not just because she is creating her own musical tapestry (from existing layers of historical and cultural tapestries) for us to enjoy and appreciate. But also the commitment, the independence, the perseverance, the risk taking, the vulnerability…the creativity in the way she is making her goal happen!  My kids read through every option of pledges on her crowdfunding site (there are some awesome ideas, including house concerts and her parents making you dinner!).  They analysed the availability of spots.  They added up the possible pledge amounts.  They estimated the cost to Sophie of each pledge idea.  They discussed with wide eyed chatter.  I could see the light in their eyes illuminating their brain, I could hear the cogs in their brain in motion.  They were connecting with somebody whose music they like, and with somebody who was creatively finding a way to make their music happen.  They were already thinking about their own goals, and thinking of ways to make them happen.  This kind of deep engagement and excitement doesn't often happen in a classroom.  It happens through contagious creativity just like this.
I shared Sophie's video (above) to 'Oh My Garden' with my Middle, High and Senior School students when I was teaching at Kormilda College, Darwin.  It has footage of Sophie's tour in China.  We talked about how difficult it is for a Western artist to gain permission to tour in China, and why they thought that Sophie's request to the Chinese Government was accepted.  We don't know Sophie's full story, but we listened to her interviews, and students quickly realised that a knowledge of the Chinese language and culture played a huge part in Sophie being successful in her application.  To watch a 'cool' alternative artist achieving amazing goals touring China, really inspired the students, and gave them an intrinsic motivation to learning Mandarin…learning another language can really open up your world.
Well we don't have Sophie's new album yet, but 橄榄树 (gǎn lǎn shù) 'Olive tree' is one of the tracks.  Looking forward to hearing the version on the album, but in the meantime, above is Sophie singing this live.  Originally written by Sanmao, this song has a complex historical identity itself! It is a popular song in Taiwan and China, is simple, but emotional. For me it sends my mind pondering about belonging, I think of all migrant workers in China, I think of migrants in Australia, I think of my little girl, I wonder whether my 'roaming' off the path less travelled in life makes me lost or found…whatever meaning you find in it…it's also a great song to learn a few Chinese words 🙂  Lyrics are at the bottom of this post.
I also just wanted to share one more video of Sophie's, to the song 'I understand', which moves me whenever I watch it, and my kids love watching the making of the video too, thinking Sophie was amazingly brave to spin upside down and put her head under water to show 'pain' in 'understanding'!  Again this song, about a broken relationship, makes me think of the relationships with our identities that we have within ourselves, it makes me think of how some of the Chinese community in Australia feel about their relationship with their homeland, and then leads me to think of how my little girl will think of her relationship with her Chinese identity as she journeys through her life in Australia.  Below is the video, and the making of the video which I think kids will enjoy!
I hope these examples of Sophie Koh's work show how such creativity can not only give us the joy of being entertained, not only give us a deep and emotional understanding of culture, identity and language that no text book can give, but inspire us to engage creatively within our own world, and in turn spread this contagious creativity which makes our life so rich.
I am excited to say that we have pledged to be 'with the band' at Sophie's album release concert in Melbourne.  I have sacrificed a 3 day language teachers' PD conference, to pay for this pledge instead.  I figured giving my kids the experience of seeing Sophie's 'Book of Songs' live, seeing her set up for her gig, seeing her to congratulate her personally on achieving her goal through determination and creativity, for my kids to 'catch' her creativity, is far better 'PD' for all of us than a teachers' conference!
Again, if you want to pledge to receive her album when it is released, go to her pozible page.
Lyrics to Olive Tree:
不要问我从哪里来

我的故乡在远方

为什么流浪

流浪远方 流浪

为了天空飞翔的小鸟

为了山间清流的小溪

为了宽阔的草原

流浪远方 流浪

还有 还有

为了梦中的橄榄树 橄榄树

不要问我从哪里来

我的故乡在远方

为什么流浪

为什么流浪远方

为了我梦中的橄榄树

不要问我从哪里来

我的故乡在远方

为什么流浪

流浪远方 流浪

bù yào wèn wǒ cóng nǎ lǐ lái

wǒ de gù xiāng zài yuǎn fāng

wèi shén me liú làng

liú làng yuǎn fāng liú làng

wèi le tiān kōng fēi xiáng de xiǎo niǎo

wèi le shān jiān qīng liú de xiǎo xī

wèi le kuān kuò de cǎo yuán

liú làng yuǎn fāng liú làng

hái yǒu hái yǒu

wèi le mèng zhōng de gǎn lǎn shù gǎn lǎn shù

bù yào wèn wǒ cóng nǎ lǐ lái

wǒ de gù xiāng zài yuǎn fāng

wèi shén me liú làng

wèi shén me liú làng yuǎn fāng

wèi liao wǒ mèng zhōng de gǎn lǎn shù

bù yào wèn wǒ cóng nǎ lǐ lái

wǒ de gù xiāng zài yuǎn fāng

wèi shén me liú làng

liú làng yuǎn fāng liú làng

Do not ask me where did i come from

For my hometown is faraway from here.

Why am I wandering here? Wandering far, wandering still.

For those little birds that are flying in the air

For those clear streams between the mountains.

For those wide and spacious grassland Wandering far, wandering still.

But there is more, For that olive tree from my dream, the olive tree

Do not ask me where did i come from

For my hometown is faraway from here.

Why am I wandering?

Why am I wandering a far off.

Wandering for that olive tree in my dream