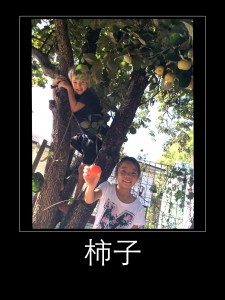 We have a persimmon tree in our back garden, a persimmon in Chinese is 柿 (shì). But what on earth does this have to do with tomatoes?
Well persimmons are native to China (as well as many other countries) but China definitely produces the most by far for market distribution. But tomatoes were never native to China…so when they were introduced they didn't have a name…but they sure looked like a 柿子 (shìzi)or a PERSIMMON.  So they called the tomato a 西红柿 Xīhóngshì,西 means 'west' 红 means 'red' and 柿 we already know means 'persimmon'. So tomatoes in China are literally called 'a red thing that comes from the West that looks like a persimmon'. Cool hey!
You will notice the character for persimmon 柿 is itself made up of 2 components 木 and 市。木 means 'tree or wood', so we have a clue that this character is something to do with, or possibly grows in a tree! 市 means 'city, market or trade' and is itself pronounced 'shì'. So this can tell us that whatever is growing on this tree maybe traded in the markets? Components of character are sometimes there just to give us a clue on how the character is pronounced, so this may also be a phonetic clue for us!!
Whatever the etymology looking for clues in characters, and compound words such as 西红柿 can be interesting and fun, and can help us to remember as our vocabulary grows!