The Chung Wah Society Dancing Lion Troupe came to Kormilda Primary School last week to give the students a demonstration of their lion dancing!  All students got to have a go of the lions too, here's Lucas inside the lion's head!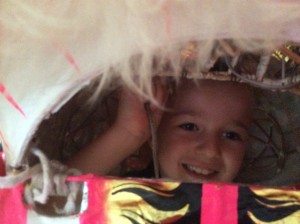 Only a few days to the Chinese New Year, and the Chung Wah Society Dancing Lion Troupe will be busy over the Chinese New Year period doing shop blessings over Darwin!
On Friday 20th Feb (afternoon / evening) they will be at Casuarina Shopping Centre.
On Saturday the 21st Feb they will be doing blessings in Darwin CBD, Parap, Fannie Bay, Cullen Bay and Larrakeyah.
On Saturday the 28th Feb they will do the Northern Suburbs and Palmerston.
It's difficult to give exact times, but Miss Donna and her family will be heading off to the CBD at around 9am on Saturday the 21st, to follow the lions around and support their very hard work!! We will grab a coffee in the mall too while we watch! So please feel free to join us, there will probably be around 3 different troupes around different parts of the CBD at one time, so hopefully you will 'hear' the drums and gongs and find a group to watch!  If you can't hear them, look out for the shops with lettuce hanging at the doorway, and they'll be along soon!
Regards,
Ms Donna